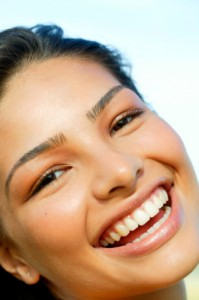 Pardon me if this question is rather personal, but… do you know if you have bad breath? I'm not talking about the bad breath that most people have when they wake up in the morning. I mean the kind of bad breath that could peel the paint on the wall! I realize you may not want to hear the words, "Wow! You have bad breath!" But actually it's better to know than not know, because there is something you can do about serious bad breath, also called halitosis. Albuquerque dentist Dr. Monica Boehmer and her team do more than simply mask your bad breath. Using the CloSys III system, we eliminate the causes of bad breath.

For the most part, bad breath is caused by what you eat and your daily oral hygiene routine—or lack thereof. The foods we eat go through our digestive systems and are eventually absorbed into the bloodstream and carried throughout the body, including to your lungs. Then, when you breathe, the odor from strong foods—such as garlic and onions—are exhaled. You can cover the odor with toothpaste and mouthwash, but the odor won't go away until the foods are eliminated from your body.
Secondly, bad breath can be the result of careless oral hygiene at home. If you don't brush and floss your teeth every day, then remnants of what you've eaten remain in your mouth—on your tongue, between your teeth and along your gums. These "leftovers" lead to bacterial growth that can cause bad breath.
In addition to the food you eat and your oral hygiene routine, other factors that contribute to bad breath are:
Periodontitis, the advanced stage of gum disease
Postnasal drip
Dry mouth
Acid reflux
Respiratory tract infections
Diabetes
Liver or kidney problems
Our Albuquerque Dental Office Treats Bad Breath
Dr. Boehmer uses the CloSys III program to eliminate the bacteria that cause bad breath. The program includes sulfate-free fluoride toothpaste, an oral rinse and an oral spray. In addition, Dr. Boehmer encourages all of her patients and those with bad breath to schedule twice yearly dental cleanings and exams and to maintain your at-home oral hygiene routine faithfully.
Call Our Office Today
If you've been told that you have bad breath, or if you've tried other bad breath treatments that haven't worked, then call Albuquerque dentist Dr. Boehmer to learn more about the CloSys III program. Our office welcomes patients from surrounding areas including Rio Rancho, Placitas, Santa Fe, Edgewood, Los Lunas, and Belen.