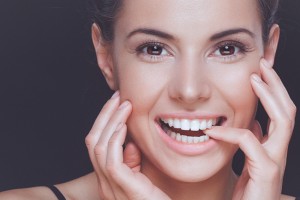 One of the first features that people notice when they meet you is your smile. Are you proud to share your smile with the world, or are there aspects about it that you'd like to change or improve? Modern dentistry offers a lot of great cosmetic options for improving the appearance of your smile, and a bonus is that many of these treatments also improve function. Your Albuquerque dentist discusses different options for improving your smile.
Invisalign
This is a great option for busy adults or teens who are interested in discreetly straightening their teeth. Instead of using traditional metal brackets, Invisalign straightens your teeth using clear plastic aligners that are virtually invisible. Your aligners should be worn 20-22 hours per day and changed every two weeks. Your dental provider can determine if you're a candidate for Invisalign with a thorough examination and x-rays. Most cases take 12-18 months to complete and the result is a beautiful, straight smile that will restore your confidence!
Porcelain Crowns and Veneers
If you have teeth that are fractured, chipped or in need of repair porcelain crowns or veneers may be a great solution for you. Veneers are a thin shell of porcelain designed to fit over your natural tooth structure that can repair small chips, wear, staining and discoloration. Veneers are custom blended to match your teeth and they can be used to repair one or two teeth, or enhance an entire smile.
Porcelain crowns are used to repair teeth that have been damaged beyond what a filling or veneer can repair. A crown is designed to fit over your tooth like a cap, which protects the integrity of your natural tooth structure and root. Crowns are also blended to match your existing teeth so that your smile looks natural.
Smile Makeover
A smile makeover is a customized plan that is designed to help you achieve a healthy and beautiful smile. This may be done through a combination of cosmetic options depending on your specific needs. You may be surprised to learn that you have a number of options to choose from. Dr. Monica Boehmer specializes in restoring patient's smiles and she will help you select the option that best meets your lifestyle and needs.
Dr. Boehmer offers high quality dental care using state-of-the-art technology to make treatment more comfortable and efficient for her patients. With thousands of hours of advanced training, you can rest assured that when you work with Dr. Boehmer you'll be getting treatment and restorations that you can trust and rely on.
If you're not completely satisfied with your smile, don't wait any longer to make the improvements you've been dreaming of! Contact Dr. Boehmer today to learn about your options for Albuquerque cosmetic dentistry.