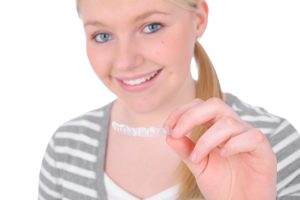 When you have crooked or misaligned teeth, it's always on your mind because smiling in front of others is embarrassing. Did you know that it affects your oral health as well? Crooked teeth are hard to keep clean, and this can put you at a higher risk for tooth decay and periodontal disease. A misaligned bite can also contribute to joint issues such as TMJ. The good news is that adults can straighten their smiles discreetly with Invisalign in Albuquerque, and Dr. Monica Boehmer can help!
What is Invisalign?
Instead of using traditional braces, Invisalign uses clear plastic aligners to apply gentle pressure and gradually straighten your teeth. Aligners need to be worn 20-22 hours per day and changed every two weeks in order to be effective. Most Invisalign cases can be completed in 12-18 months, and the result is a smile you'll be proud to share with the world!
What are the Benefits of Invisalign?
Besides straightening your teeth discreetly, Invisalign offers patients a number of other benefits. Aligners fit snugly so they're comfortable to wear and they don't interfere with talking, smiling, or your other normal daily activities. Because aligners can easily be removed for brushing and flossing there are no changes to your home care routine. Aligners are easy to keep clean and can be brushed and rinsed at the same time. There are also no restrictions to your diet as there would be with traditional braces.
Am I a Candidate for Invisalign?
Dr. Boehmer can determine if Invisalign is right for you with a thorough examination, x-rays, and photos of your teeth. If you move forward with Invisalign, she'll use 3D imaging to create your treatment plan, which Invisalign will use to fabricate your aligners. You'll even be able to see what your newly aligned smile will look like before you begin treatment! Invisalign is truly the best option for busy adults who want a straighter, healthier smile quickly and discreetly.
Dr. Boehmer has been taking great care of patients in Albuquerque for over a decade, and she dedicates herself to continuing to learn all aspects of dentistry by participating in thousands of hours of advanced training and continuing education. If you're looking to enhance or improve your smile, you can rest assured that you're in highly skilled hands with Dr. Boehmer.
Contact our office today to learn how we can help you reclaim your smile!