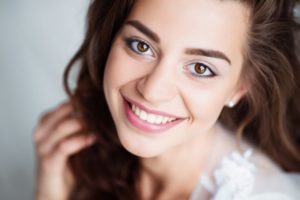 Your smile is one of the first features people notice when they meet you. What kind of impression is it making? Are you satisfied with the appearance of your teeth? If there are improvements that you'd like to make to your smile, cosmetic dentistry offers many great options, and Dr. Monica Boehmer can help! With extensive continuing education in the field of cosmetic dentistry, Dr. Boehmer is well equipped to deliver the smile you've always wanted, and a smile makeover in Albuquerque may be the solution for your needs.
What is a Smile Makeover?
Dr. Boehmer offers specialized dentistry that is tailored to your specific needs, and this is very apparent when you choose her for your smile makeover. She spends a lot of time discussing your goals for your smile with you. She takes into consideration factors like your facial features and skin tone, which she uses to create a plan that delivers the smile you've always wanted.
A smile makeover may utilize one or two procedures such as teeth whitening or porcelain veneers, or it may combine a number of restorative and cosmetic services. These types of treatment plans can often be completed over time so its more convenient for your schedule and budget.
Other Cosmetic Options
Perhaps your smile just needs a quick update? Teeth whitening may be a good solution for you. Dr. Boehmer offers both in-office and take-home whitening options that use professional grade whitening gels and deliver teeth that are 6-10 shades lighter in a matter of hours or days depending on which system you choose.
Have you been living with teeth that are crooked or overlap? Invisalign could be the right choice for your needs. Invisalign uses clear plastic aligners to apply gentle pressure and gradually move your teeth. This treatment is discreet and efficient and is an ideal option for busy adults and teens. Dr. Boehmer is a certified Invisalign provider and she can determine if this treatment is right for you and even show you what your newly aligned smile will look like before you even start treatment!
Are You Ready For Your New Smile?
If you'd like to learn more about the possibilities and options for your smile, we encourage you to call your cosmetic dentist in Albuquerque and schedule a consultation.