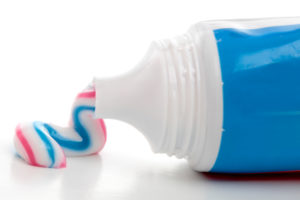 You're standing in the toothpaste aisle, unsure of what to choose. With so many products on the market, how do you know which ones are right for you? Should you choose products containing fluoride? Dr. Monica Boehmer, your dentist in Albuquerque, has answers for you, and we'll tell you why fluoride is important for the health of your teeth.
A Naturally Occurring Mineral
Fluoride is actually a mineral that is found throughout nature, and it's especially helpful during the demineralization and mineralization processes that happen naturally in your mouth. Demineralization takes place when the acids in your mouth breakdown your tooth enamel, and remineralization occurs when fluoride and the saliva in your mouth help to rebuild your enamel. If too much demineralization happens, it leads to cavities that will need to be repaired with a dental filling.
Topical Fluoride Improves Your Oral Health
Because Albuquerque doesn't include fluoride in the water, it's important to have fluoride applied topically at your dentist. This will help with remineralization and strengthening your enamel. For teeth that are experiencing damage from demineralization, fluoride can sometimes reverse tooth decay.  We recommend topical fluoride treatment for our patients with restorative work, including fillings, crowns, veneers, etc. because fluoride is bacteriostatic, meaning that it helps keep the bacteria numbers down, as well as, re-mineralizing any weak spots in the enamel and hardening root surfaces (which are inherently soft, several orders of magnitude softer than tooth surfaces).
In our adult patients, recession exposes the root surfaces. Fluoride treatment reduces sensitivity by hardening the root surfaces. Our goal with our adult patients is to have their restorative work last as long as possible. The longevity of restorative work is 90% of what you do at home and 10% of what we do at the dental office. Topical fluoride includes over-the-counter fluoride toothpaste (for our less cavity prone patients), in-office fluoride varnish, or prescription fluoride toothpaste (for our patients with significant restorative work, recession, sensitivity, or simply more cavity prone).
Topical fluoride is also recommended for children, and your Albuquerque dentist, Dr Boehmer and her staff will offer those applications at their routine dental cleanings. Fluoride helps small teeth develop properly and also strengthens enamel.
Using fluoridated toothpaste is also a good idea. Your child can begin using toothpaste with fluoride as soon as they're able to spit after brushing, usually around the ages of 4-5 years old. Daily fluoride applications through your brushing will help to strengthen your teeth and protect against tooth decay. Dr. Boehmer can recommend products such as toothpaste and mouth rinse that are right for your needs.
Preventive Care Appointments
Regular visits to your dentist are also important for protecting your oral health. Dr. Boehmer recommends that you visit every six-months, and we can deliver fluoride treatments at these visits if you and Dr. Boehmer decide it meets your needs. We'll also screen you for tooth decay in order to detect it in its earliest stages. If tooth decay is just beginning, a fluoride treatment may help to reverse the damage before it causes a cavity.
If you have questions or concerns about fluoride, we encourage you to call our office or discuss it with Dr. Boehmer at your next visit.