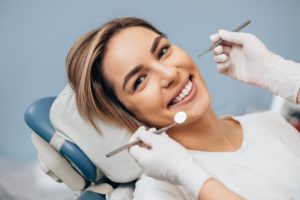 For the past few months, people throughout the world have been forced to adjust to a new "normal." Staying indoors, wearing masks and gloves, avoiding social gatherings, working from home, and being unable to patronize various businesses have quickly become the daily routine. COVID-19 has definitely caused a dramatic shift in the way people live, interact, and do business, but some of that is about to change. How? As states begin to slowly reopen in the coming weeks, you may find yourself asking, "When is it safe to go to the dentist?" Read on to find out when you can expect this to happen and what precautions your dental team will be taking to keep you safe.
When Is it Safe to Visit Dr. Boehmer?
Located in Albuquerque, New Mexico, the governor has declared that dentists will be able to reopen on May 11 and begin seeing patients once again. This information is great news not only for Dr. Boehmer and her team but also for individuals who have been waiting to receive basic, preventive care or are in need of elective procedures.
But will it be safe? After all, COVID-19 won't just suddenly vanish. How can you be sure that once you arrive for your appointment, you won't be at risk of contracting the virus? Fortunately, Dr. Boehmer is committed to taking extra precautions and enacting various safety measures to keep both her staff and patients safe at all times.
What Safety Measures Are Being Taken?
To prevent the possible spread of COVID-19 (coronavirus), you can expect to see the following when you arrive:
Facial masks (sneeze guards) will be available at the front desk for anyone in need.
Hepa air filters will be placed throughout the office.
There will be social distancing between patients.
Team members will screen all patients, asking if the person has been sick in the last 30 days or has traveled/been on a cruise in the last 30 days
All dental staff will have their temperatures checked every day
Dental team members and/or patients will have antibody tests performed once it becomes available at a reasonable cost
By adhering to these safety precautions, this will help to keep everyone safe who walks through the doors of Dr. Boehmer's dental office. Although it may require a bit more time, it is necessary and will allow you, as well as all other individuals, the opportunity to receive the care you need and deserve.
About the Author
Dr. Monica Boehmer earned her bachelor's degree at Washington University in St. Louis before going on to complete her Doctor of Dental Surgery degree at Baylor College of Dentistry. A believer in continuing education, she has completed more than 1,000 hours in advanced dental techniques. Dr. Boehmer and her team strive to ensure all patients achieve the beautiful smiles they deserve. Offering comprehensive dentistry solutions, you can expect to receive high-quality care and personalized service every time you walk through the doors. Find out how we can give you a healthier smile by contacting us at (505) 271-8009.