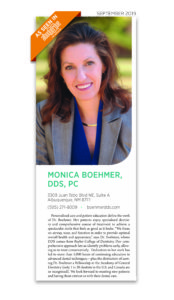 As a passionate dentist in Albuquerque, Dr. Monica Boehmer has been offering one-of-a-kind smiles to her patients for more than 25 years. This level of high-quality dental care and her meticulous attention to detail is why she has continued to remain one of the "Top Dentists" in Albuquerque the Magazine since 2005.
Who is Dr. Boehmer?
Dr. Monica Boehmer is a dental professional based in Albuquerque, New Mexico. Complete with an impressive educational and professional background, she remains committed to lifelong learning, so as to provide her patients with outstanding results that require a minimally invasive and comfortable approach.
She and her team of dental hygienists, assistants, and administrative staff work diligently every day to provide each patient with a warm and welcoming smile and personalized care. Equipped to offer comprehensive services for patients ranging in age from 3 to 90+, she admits, "We adjust our toolbox of techniques to meet the patient's needs, rather than make a diagnosis that promotes our special focus and techniques."
What is Dr. Boehmer's Approach That Makes Her a "Top Dentist?"
Dr. Boehmer is committed to a flexible, holistic, and thorough approach, all of which enables her and her team to fully detect, diagnose, and treat various oral health issues. From general dental procedures (i.e. dental fillings, implants, and crowns) to sleep apnea and TMJ therapy, she understands what it takes to provide safe, effective, and worthwhile results. Not only does she care about a patient's oral health, but she also believes in addressing the root problem and not just the symptoms – effectively treating the whole body and not just the mouth.
How Does She Stay Current with Changes in Dentistry?
Apart from the continuing education courses she continually pursues, Dr. Boehmer and her team also research and spend time learning about new and advanced methods of dental technology, saying, "The dental industry has gotten more technical and provides many more options to treat patients…We adapt to these changes by investing in continuing education to learn about the new technologies and advanced techniques to better care for our patients."
As part of this commitment, she and her team provide a 3D Cone Beam CT Scanner as well as digital x-rays, intraoral cameras, sedation dentistry and more.
Congratulations to Dr. Boehmer for being recognized in Albuquerque The Magazine!
About the Author
Dr. Monica Boehmer earned her bachelor's degree at Washington University in St. Louis before going on to complete her Doctor of Dental Surgery degree at Baylor College of Dentistry. A believer in continuing education, she has completed more than 1,000 hours in advanced dental techniques. Dr. Boehmer and her team strive to ensure all patients achieve the beautiful smiles they deserve. Offering comprehensive dentistry solutions, you can expect to receive high-quality care and personalized service every time you walk through the doors. Find out how we can give you a healthier smile by contacting us at (505) 271-8009.