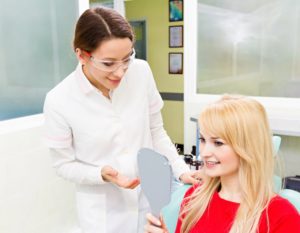 From porcelain veneers to metal-free restorations, there are a wide variety of cosmetic dentistry services, but just because someone offers these services doesn't always mean they're qualified to perform them on patients. You know you want to do something about those unsightly cracks in your smile, but how do you know which cosmetic dentist to choose? Here are 5 questions you should ask a prospective clinician before moving forward with treatment.
1.      How Experienced Are You?
No matter if you're looking for a dentist, doctor, hairstylist, or any other individual who is providing a service, it is highly likely that you'll want to know how long they've been practicing. This gives you an idea of their experience and whether or not they are knowledgeable enough to perform the type of procedure you're wanting. You want the best, and you want your results to be worth the money you've invested, so make sure the dentist you choose has the years of experience to make you feel comfortable and confident in your decision.
2.      What Will Treatment Entail?
With any cosmetic procedure, you are entering a partnership with a dental professional that last multiple appointments. You want your treatment to last as long as possible, not break down quickly, which is why it's important to know what your treatment plan will look like. Ultimately, it is your decision as to whether you want to move forward, so don't feel as if you're locked in just because you're asking for a typical treatment plan to review. Each dentist has a different approach, so make sure the one they're using aligns with your individual needs.
3.      What Kinds of Technology Will Be Used?
Nowadays, dentists are using many different forms of technology, most of which are designed to make the process quicker and result in less recovery time for the patient. By choosing a cosmetic dentist who offers updated technology to perform both general and cosmetic procedures, this will hopefully make you feel more confident in your decision. This shows their dedication to their patients and a desire to offer the latest and greatest techniques to make not only their life but the patient's life a little bit easier.
4.      Will My Results Look Natural?
No one wants teeth or gums that look unnatural. At one point in time, porcelain veneers were considered "chiclet teeth" because of their uncanny resemblance to the candy. However, times have changed, and it's important that you make sure your results will look completely natural. The point of cosmetic dentistry is to improve the look of your smile, not make it look fake.
5.      Do You Have Any Before and After Photos to Share?
The last question you should be sure to ask is to find out if they have any before and after photos or case studies. This will allow you to see other patients and their successful results. By seeing how many other people have found success with this cosmetic dentist, it will give you more peace of mind to pursue treatment.
Your smile is important, so if you're looking for someone to take care of it and make it look better than before, don't feel as if you need to settle on a cosmetic professional who doesn't meet your specific criteria. Ask questions and feel confident in your decision. It will be worth it, especially once you achieve your desired results.
About the Author
Dr. Monica Boehmer knows what it takes to create beautiful smiles. Earning her bachelor's degree at Washington University in St. Louis, she went on to complete her Doctor of Dental Surgery degree at Baylor College of Dentistry. As a dental professional, she works hard to cover imperfections and restore smiles in a way that leaves her patients feeling more confident in their new and improved look. If you're looking for a cosmetic dentist who can give you the results you want, look no further than Dr. Boehmer. Find out how we can give you the smile of your dreams by contacting us at (505) 271-8009.