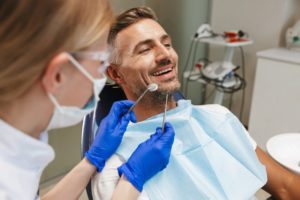 It has been a few years since your last visit to the dentist office. You haven't experienced any pain, and you're continuing to brush and floss as you should. While maintaining good oral hygiene practices is important, you're missing a crucial part to truly effective preventive care – a regular dental checkup and cleaning. If you think you only need to see a dental professional when you're in pain, that's simply not true. To offer some insight into how beneficial regular checkups can be, here are 5 reasons you should maintain a six-month schedule with your dentist.
Early Detection for Oral Cancer
One of the most important, yet, often downplayed aspects of a dental checkup is an oral cancer screening. At least once a year, you can expect your dentist to look for any signs or symptoms associated with oral cancer. Some of these include:
Red and white patches
Rough spot or a lump in your mouth
Difficulty chewing or moving your jaw
Sore throat or hoarse voice
Early detection is key when diagnosing oral cancer. The reason is that if left undiagnosed or untreated, it can be fatal. According to the American Cancer Society, an estimated 50,000 people will be diagnosed with it in 2019. Your dentist can quickly and easily check your throat, mouth, and jaw for any signs. Should there be any cause for concern, you will obtain a referral to see a doctor to receive an official diagnosis.
Removing Plaque and Tartar Buildup
When plaque and tartar build up around the gum line, this can spell trouble. The only way to effectively remove them is by seeing your dentist. Using specialized tools, a highly trained dental hygienist can safely remove the harmful buildup from your teeth and gums, giving you a clean and refreshed smile. It is important that they are removed so that you don't have to worry about the possibility of developing gum disease.
Addressing Early Signs of Tooth Decay
During a checkup and cleaning, your dental team will check each tooth for any signs of tooth decay. Should any dark areas or cavities be present, they will work to slow the progression of the decay and/or suggest a scheduled appointment to have the cavity filled. By regularly visiting your dentist, you can halt and slow any early signs of tooth decay, especially by following the instructions provided by your dental professional, such as:
Brushing your teeth twice a day for two minutes
Flossing at least once a day
Rinsing with an antiseptic mouthwash
Brushing or using a tongue scraper to clean your tongue
Diagnosing Early Gum Disease
As we mentioned earlier, plaque and tartar that build up around the gum can lead to the early stages of gum disease known as gingivitis. Fortunately, with a thorough cleaning and good at-home oral hygiene practices, you can actually reverse it. It's imperative that your dentist catches it when it is at this stage. If not, it can progress into periodontitis, which results in inflamed, bleeding gums, and possible bone and tooth loss.
Checking Dental Restorations
Whether you have a dental crown, bridge, dental implant, or porcelain veneers, it's important that your dentist check your restorations to make sure they are in good condition and you're experiencing no problems. Too often, a crown will be lost, or a veneer will crack. Without seeking immediate treatment, it can lead to further damage to your natural tooth.
Skipping appointments can lead to additional dental work and more time and money spent in the dentist chair, and although it may be difficult trying to find the time, maintaining regular dental checkups and cleanings means you are putting yourself on a path to great oral health.
About the Author
Dr. Monica Boehmer, DDS, PC, earned her bachelor's degree at Washington University in St. Louis before going on to complete her Doctor of Dental Surgery degree at Baylor College of Dentistry. A believer in continuing education, she has completed more than 1,000 hours in advanced dental techniques. Dr. Boehmer and her team strive to ensure all patients achieve the beautiful smiles they deserve. Offering comprehensive dentistry solutions, you can expect to receive high-quality care and personalized service every time you walk through the doors. If you're searching for a "dentist near me," look no further than Dr. Boehmer. Find out how we can give you a healthier smile by contacting us at (505) 271-8009.