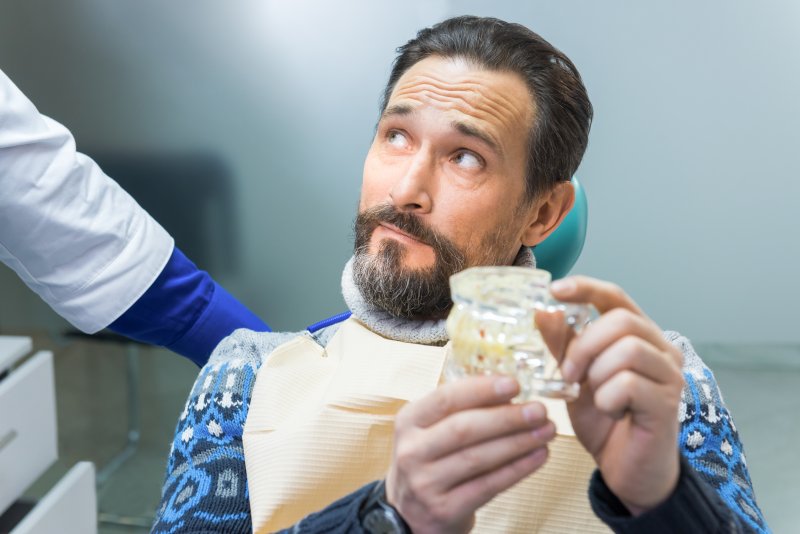 You have options when it comes to replacing your missing teeth. Dentures, dental bridges, and dental implants are all potential solutions that can recreate your smile. But if you're leaning toward a more permanent method of treatment, you may be preparing for a dental implant consultation. Depending on how you plan to approach this meeting, it may be helpful to ask these three questions when visiting with your dentist to discuss your eligibility and future with permanent prosthetics.
What Can Happen If I Don't Replace My Tooth?
You should know why it's necessary to replace a missing tooth. If you're already considering prosthetic teeth to do this, your reason might be to improve your aesthetics; however, there is a more serious element that also exists.
Tooth loss is the culprit behind many serious health issues. Osteoporosis, diabetes, and heart disease are just a few of the potential ramifications that can develop should you choose to avoid tooth replacement. Bone loss and additional tooth loss can also occur.
Although your consultation is designed to determine your eligibility for treatment, you're under no obligation to move forward. Yet, you can expect your dentist to stress the urgency, as waiting too long will put the wheels in motion for more serious problems in the future.
Will I Need a Referral for Dental Implant Placement?
Depending on how your implant dentist handles this type of surgical procedure, they may or may not refer you to an outside specialist. Many professionals are undergoing the proper training to provide start-to-finish treatment in-house, making for a more convenient and comfortable process for patients.
Dr. Monica Boehmer is one of these dentists who pursued continuing education to offer individuals the opportunity to receive dental implant placement and restoration in her dental office. This cuts down on specialist fees and inconvenient travel to another practice.
If My Crown Becomes Damaged, Will the Entire Implant Need to Be Removed?
It is possible to have your customized restoration replaced should it become damaged; however, your dentist will need to make sure the implant post is not affected as well. As long as there is no trauma to the post, it can be an easy and more affordable fix to just re-create the crown, bridge, or denture, especially if the dentist already offers restorative options.
Fortunately, Dr. Boehmer does, and she will ensure your new tooth looks and feels just as natural as the previous one.
If you'd rather avoid walking into your consultation completely "in the dark," don't hesitate to bring your list of questions. Getting the answers you need will put you in a better position to decide if dental implants are right for you.
About the Author
Dr. Monica Boehmer is a dentist in Albuquerque who treats offers dental implant placement and restoration in her office. Equipped with the necessary training to perform this procedure, she and her team will thoroughly explain the process during your initial consultation. If you have questions, however, make sure to contact us at (505) 271-8009 to find out how we can help you.