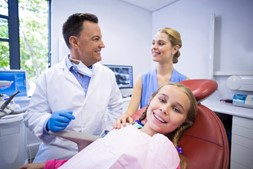 If you're tired of driving all over town in an effort to get your family to their various dentist's appointments, you're not alone. The inconvenience can be exhausting, and the time lost can make you feel like your entire day was wasted. Fortunately, there is a solution to this problem that can make life easier for everyone you love. Here are four unique benefits to consider if you are ready to make the switch to a family dentist.
What is a Family Dentist?
Treating patients of all ages is the focus of every family dentist. Providing an array of comprehensive services designed to meet the needs of both children and adults, these practitioners make it easy for families to get the care they need without hopping from one office to the next.
Family dentists typically provide general checkups and cleanings, restorative dentistry, cosmetic services, sedation dentistry, fluoride treatment, tooth restorations, dental fillings, and much more.
4 Benefits of Seeing a Family Dentist
Although much of the oral healthcare field is made up of general dentists who can also treat patients of every age, they tend to focus on certain demographics more than others. Family dentists, however, have the experience and knowledge to treat a child's developing smile as well as an adult's maturing and ever-changing oral health.
If you are considering a family dentist for you and your loved ones, here are four unique benefits you can expect:
Comprehensive Care Available to All Ages
No matter the age of a patient, seeing a family dentist makes it possible for everyone you love to get the dental care they need to ensure a healthier smile.
As a family dentist for more than 20 years, Dr. Monica Boehmer is pleased to offer an array of services for individuals of all ages. This not only cuts down on the number of referrals but also allows families to remain in one place for all their oral healthcare needs.
Convenience in One Location
No more driving all over Albuquerque to take your family to their designated appointments. Instead, you can remain in one convenient location. Not only does this save on gas, but it also makes it easy to schedule your loved one's visits on the same day! This allows for a more seamless and simplified way to achieve optimal oral healthcare. Also, you can feel confident that your children will remain with the same great dentist as they transition into various stages of life.
Your Dental History Remains in One Place
Choosing a family dentist makes it easy to keep your dental history in one place instead of trying to explain to someone new the changes and problems you've faced over the years. For example, if you are prone to cavities or have dealt with genetic oral health issues, there's a good chance a family dentist will be more diligent in treating your children to avoid the same problems.
Dr. Boehmer and her dental team can easily retrieve dental histories and call back files to review previous treatments. This makes the process of navigating current oral health issues much easier when she can base her recommendations on the current state of a person's smile and previous services provided.
You Can Make Your Child More Comfortable
When bringing your child with you to a dentist's appointment, your experience can help to alleviate any concerns or anxieties they might have. By allowing them to see you undergoing a normal dental checkup and cleaning, they can discover there's nothing to be afraid of, and they, too, might feel more at ease when it comes time for them to hop into the dentist's chair.
At Dr. Boehmer's office, she and her team create a warm and welcoming environment with kid-friendly services. As a result, young teeth and gums can eventually grow and develop into healthy adult smiles.
Don't assume the only solution is for each member of your family to see a different dental professional. Instead, make the switch and watch how easy life can become when you schedule an appointment with a family dentist.
About the Author
Dr. Monica Boehmer is a family dentist with more than 20 years of experience. Helping patients of all ages, she and her dental team are pleased to offer comprehensive services to children, teenagers, adults, and seniors. No matter the stage of a person's smile, she can deliver high-quality results in a warm, welcoming environment. If you're looking for a trusted family dentist, contact us at (505) 271-8009.