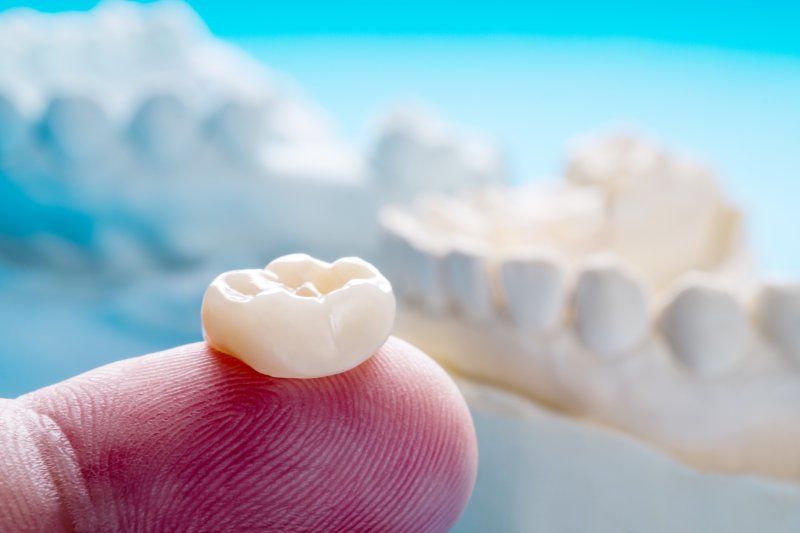 A lost dental crown is considered a dental emergency. While you may not need to get in the same day for treatment, it is a situation you should not put off, as bacteria can spread and further damage can occur, putting your weakened tooth at more serious risk. After calling your dentist's office to discuss the situation, you can expect them to provide helpful tips to use at home until it is time for your appointment. In this article, we will look at four specific steps you should take when faced with a missing dental restoration.
Check the Tooth
Once you notice that your dental crown has fallen off, call your dentist's office. After speaking to a member of the team, they may tell you to try and re-bond the restoration temporarily using dental cement. However, if you cannot find the crown, do not worry, as your dentist can have a new one created.
You should expect to check your tooth for any jagged areas and cover them with sugarless gum or dental wax. This will prevent damage to your nearby soft oral tissues. Even if you are in no pain, do not assume the situation doesn't require timely attention. You should expect to see your dentist within a few days of losing your crown.
Be Mindful When Cleaning Your Teeth
Now that your underlying tooth is exposed, it is likely to be more sensitive. You don't want to do anything that will irritate it, so when it comes to your oral hygiene routine, you'll need to be extra mindful. Make sure when brushing that you are careful around the vulnerable tooth but continue to clean your smile twice each day. You can also floss, but it might be helpful to rinse with warm salt water to flush out any bad oral bacteria that might try to cause decay.
Be Cautious While Eating
Certain foods will need to be avoided when experiencing a lost dental crown. Apart from sticky foods that can adhere to the vulnerable tooth, anything that is hot or cold will only irritate the structure and cause sensitivity. When the nerves of the tooth detect these temperatures, it will send signals that trigger immense discomfort. It's best to avoid chewing on the side of your mouth with the lost dental crown so that you do not bother the area.
See Your Dentist
Once it is time for your appointment, make sure that you bring the crown if you are able to retrieve it. Depending on the state it is in, your dentist may be able to reattach it. However, if it cannot be located or is too badly damaged, it will be necessary to have a new one created and secured over your existing tooth structure.
Losing a dental crown might seem daunting and worth panicking over, but the truth is that these restorations are not meant to last forever. Should this situation happen to you, remember to stay calm, call your dentist's office, and follow these steps to better manage your smile.
About the Author
Dr. Monica Boehmer believes all individuals should be able to enjoy healthy, fully restored, and beautiful smiles. When a person faces a lost dental restoration of any kind, it's important that immediate treatment be provided to reduce the chances of serious harm or reinfection. She and her team can work to re-bond a lost crown or filling or have a new one created. If you are unsure of how to handle this type of situation, contact us at (505) 349-0266.