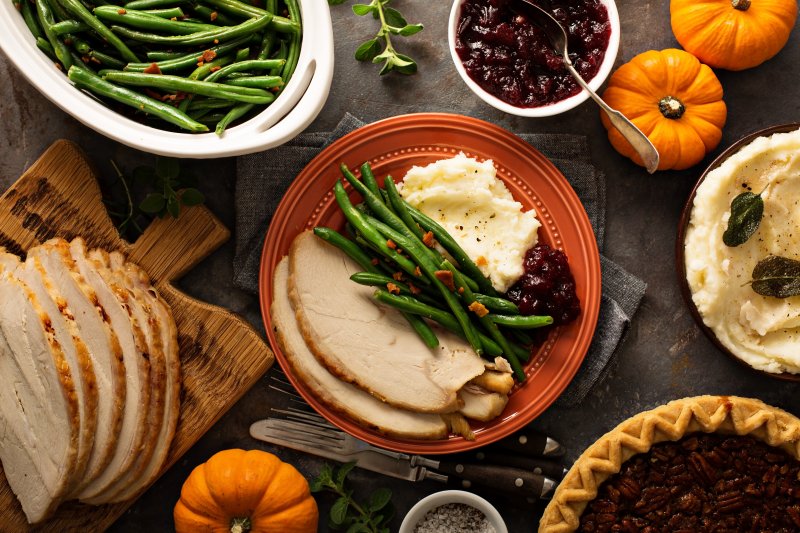 If you're like most people at Thanksgiving, you can't wait to dig into the delectable dishes around your grandmother's table. From turkey and mashed potatoes to yams, green beans, and homemade pecan pie, it's the one time of year that you can feel guilt-free when it comes to eating. But can you? Have you considered how certain holiday foods might put your teeth at risk for cavities and decay? If you want to make sure your smile looks and feels its best throughout the holidays, consider how you can better care for your teeth and gums while enjoying some of your favorite seasonal treats.
The Truth Behind Sugars and Starches
When seated around the dining room table preparing to enjoy your Thanksgiving dinner, you'll want to survey the dishes to determine which ones can do the most damage to your smile. While no food is off limits, it's important to practice moderation while also remembering to practice optimal oral hygiene before going to bed and when waking in the morning.
Foods such as cranberry sauce, pies, cookies, cakes, cobblers, and other sugary desserts, stuffing, and dinner rolls all contain high levels of sugar and starch – two components that are known to cause cavities and tooth decay. When consumed, bacteria form and cause harmful acids to develop, effectively eating away at your tooth enamel and attacking your gums. Over time, if left untreated, it can create small holes within the outermost layer, resulting in cavities and a need for restorative dental care.
Holiday Foods That Reduce the Risk of Cavities
Even while enjoying some of the other sugary and starchy foods listed above, make sure to incorporate plenty of protein, vegetables, and dairy. They can help to minimize harmful bacteria inside your mouth. Some of these foods include:
Turkey
Cheese
Nuts
Cooked vegetables
An important note is that sweet potatoes are a healthier option as opposed to mashed potatoes; however, if you pile on brown sugar and marshmallows, you'll succumb to the sugar that infiltrates this healthy vegetable, so be careful. Also, pumpkin pie is known to be a slightly healthier option as opposed to other sugary desserts because it's rich in vitamin C and calcium, but you'll need to be mindful not to add whipped cream.
How Your Dentist Can Help
Seeing your dentist for a regular checkup and cleaning before the holidays is one of the best ways to take proper care of your smile. An avid proponent of preventive care, they can examine your teeth and gums to determine if you are at risk for any cavities or gum disease. They'll also share ways you can better protect your smile when faced with delectable temptations, including:
Brushing your teeth with fluoride toothpaste for two minutes, twice a day
Flossing after every meal to eliminate plaque build up
Rinse with an ADA-approved mouthwash
If you need treatment, it's best to seek restorative care before entering into the holiday season so that your teeth are safeguarded against further harm.
If you want to better prepare for your upcoming Thanksgiving festivities, make an appointment with your dentist. By seeking their advice and recommendations, you can feel more equipped to tackle your grandmother's dining room table this holiday season.
About the Author
Dr. Monica Boehmer is a family dentist with more than 20 years of experience. Helping patients of all ages, she and her dental team are pleased to offer preventive services to help individuals take better care of their smiles, especially around the holidays. Whether it's completing a regular exam or suggesting ways to avoid cavities and decay, you and your loved ones can contact us at (505) 271-8009 to find out how we can help.