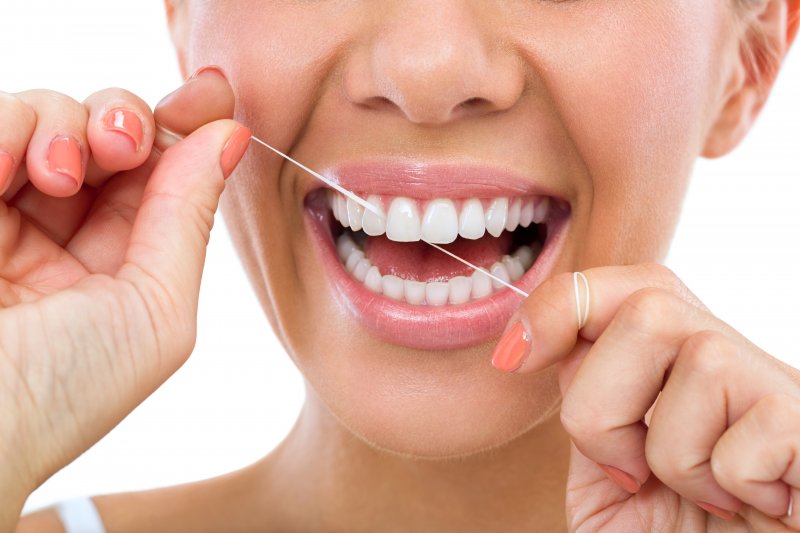 You may already be starting your New Year's resolution list for 2023. If you're like most people, you may desire to lose weight, find a new job, or even move to a new city, but have you considered adding flossing to your list? You know it is important and necessary if you want to avoid gum disease and tooth decay, but how can you stick to it? Here are four tips to help you commit to and enjoy a healthier smile in the new year.
Why Flossing Is So Important
Brushing your teeth twice a day for two minutes is most effective at removing bacteria and food particles from the larger surfaces of your teeth (i.e., fronts, backs, and chewing sides). However, debris can become trapped in between teeth, resulting in cavities that can form and remain unseen by the naked eye. If left untreated, it can also result in gum disease and a recession of your soft oral tissues.
One of the most effective ways to combat these problems is to add flossing to your dental hygiene routine. Using waxed dental floss or a water irrigator can help to remove unwanted bacteria from these crevices, allowing for a healthier, cavity-free, and disease-free smile. This is why it is recommended that you practice flossing at least once a day before bedtime.
4 Tips to Help with Your Flossing Commitment
If flossing seems like a tedious task, it may be, but it's worth the time and effort, especially since treating cavities and gum disease can take up even more of your time. If you want to stay on track in 2023 and make flossing a normal part of your everyday oral hygiene routine, here are four tips to consider:
Place your dental floss on the counter next to your toothbrush so that you see it. When it stays couped up in a drawer, you're less likely to remember. By placing it near your toothbrush, you will be more likely to add it as part of your routine.
Find a tool that works for you. Traditional, waxed dental floss isn't possible for everyone. Some individuals with certain health conditions may find it difficult to hold on to such a small piece of string. Fortunately, there are many available products on the market that are equally as effective such as floss picks and water irrigators (i.e., Waterpik). Take the time to find one that works for you.
Keep floss in your purse, car, or bag. Whether you're traveling or simply dining out with family or friends, keep a small case of dental floss on hand. You can sneak away to the bathroom to remove any food particles and keep your smile looking and feeling great.
Remember why flossing is important. You don't want to spend the extra time in the dentist's office undergoing periodontal or restorative care, so each time you think about skipping your flossing routine, consider what could be in store in the future if you neglect your teeth.
Remember that preventive care is the best way to avoid more complex procedures down the road. By taking the time to floss, you'll be able to enjoy a healthier, more beautiful appearance throughout the year.
About the Author
Dr. Monica Boehmer is a family dentist with more than 20 years of experience. Helping patients of all ages, she and her dental team are pleased to offer comprehensive solutions designed to improve and repair smiles of all types. Providing preventive services, she and her team are always happy to share insight and recommendations to help patients develop good oral hygiene habits. Contact us at (505) 271-8009 to find out what you can do to achieve a healthier smile in 2023.