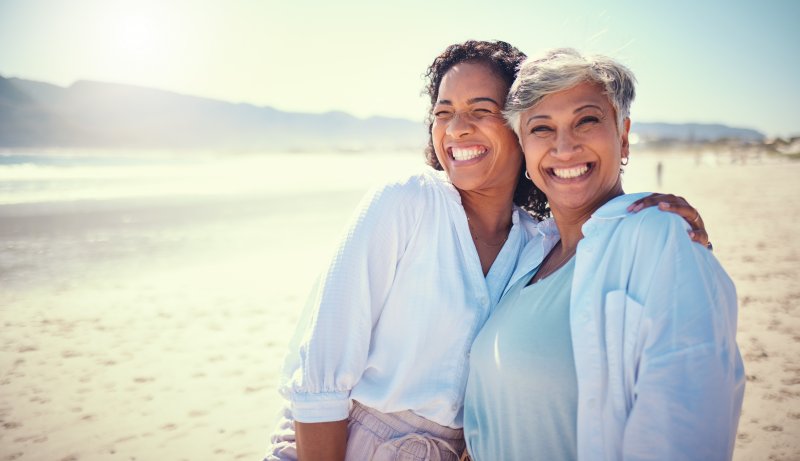 Summer is right around the corner, which means you are like most people and probably have plans to travel, spend time with family and friends, or even relax around the pool. No matter what your days will look like over the next several months, it's likely that you want your smile to look its best, especially if cameras are around. To ensure you are pleased with what you see, here are three cosmetic dental treatments to try.
Boost Your Smile with Veneers
Transforming your smile can happen in many ways, but one of the most common and popular these days is with veneers. Customized to your liking, these restorations can change the size, shape, and color of your teeth so that imperfections remain hidden.
Chips, cracks, stains, and other similar flaws no longer need to be the focal point. Instead, you can opt for veneers that are made and put into place in just two appointments. Made of highly durable porcelain, they are designed to last 10+ years with proper care and maintenance.
Not to mention, veneers will help you to feel more confident in your appearance so that you are more likely to take advantage of opportunities to excel in the workplace and meet new people.
Eliminate Stains with Teeth Whitening
If years of drinking coffee or smoking have caused your teeth to appear yellow and discolored, you might consider teeth whitening.
Many cosmetic dentists now offer in-office or take-home whitening kits. Depending on your preference, you can expect to see results in as little as one hour (in-office) or two weeks (take-home). Using professional-grade bleaching gel, teeth whitening works to penetrate the enamel and eliminate stains above and below the surface.
Unlike store-bought varieties, in-office and take-home whitening kits do more to help you see beautiful, whiter teeth that last longer and look beautiful.
Straighten Your Smile with Invisalign
Apart from feeling self-conscious about your smile, a misaligned bite or crooked teeth can leave you with poor oral health. Your tooth enamel can wear down, and your jaw may become sore or tender over time.
Fortunately, with Invisalign clear aligners, your dentist can help to move your teeth with these customized trays. When worn 20-22 hours a day for 1-2 weeks at a time, you'll notice that your teeth begin to move because of the gentle, consistent pressure that is applied.
The average timeframe for completion is 12-18 months, and you can expect a more flexible, comfortable, and enjoyable orthodontic experience.
No matter which method you choose to improve your appearance, trust that seeing a cosmetic dentist who is trained and experienced in providing these services will allow you to embrace an enjoyable and memorable summer.
About the Author
Dr. Monica Boehmer is a family dentist with more than 20 years of experience. Helping patients of all ages, she and her dental team are pleased to offer comprehensive solutions designed to improve and enhance smiles of all types. Providing cosmetic services, she and her team are always happy to boost appearances. Contact us at (505) 271-8009 to find out what you can do to achieve a brighter, whiter, and more beautiful smile this summer.