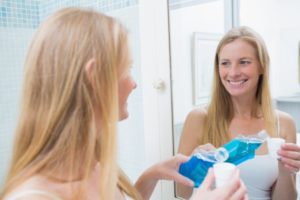 You probably don't think about your saliva very much; however, it is an important factor that is critical to having a healthy mouth. Believe it or not, saliva actually has many important jobs to do in your mouth each day, and we couldn't function properly without it. Your dentist in Albuquerque explains why saliva is so important for optimum oral health.
What is Saliva?
Saliva is a liquid found in your mouth that consists of water, mucus, proteins, minerals, and an enzyme called amylase. It is produced by your salivary glands constantly to keep your mouth moist, and in even greater amounts when it's time to digest food.
What does Saliva do?
Saliva is important for keeping your mouth healthy because it aids in these functions:
Coats your teeth to protect against bacteria
Helps to protect against tooth decay and gum disease
Washes away food particles and debris that can contribute to cavities
Neutralizes the acids in your mouth that break down tooth enamel
Carries minerals that help to rebuild tooth enamel
Helps you swallow and break down food for digestion
Saliva helps to protect teeth, while also helping to start the digestion process.
Could Saliva Help You Heal?
Have you ever wondered why wounds in your mouth seem to heal much more quickly than other cuts and scrapes? Recent findings are helping us understand how saliva plays an important role in the healing process. It was found that saliva increases blood vessel formation, which helps to accelerate the healing process.
If You Don't Have Enough Saliva
Many people don't produce enough saliva and this is known as dry mouth. Certain medical conditions and medications can also contribute to dry mouth. This condition leads to problems including an increased risk of developing gum disease, tooth decay, or infections. Swallowing food may become difficult and your mouth might feel uncomfortable.
Drinking more water and chewing sugar free gum can help with dry mouth, you should also discuss your condition with your family dentist in Albuquerque for tips on managing dry mouth.
About the Author
Dr. Monica Boehmer has been taking care of patients in Albuquerque, NM for many years. Her reputation has been built on providing comprehensive dentistry and exceptional service that exceeds her patient's expectations every time they visit.
If you would like to experience dentistry in a different way, contact Dr. Boehmer by calling 505-271-8008 or through her website online.