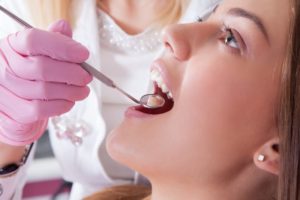 Even though tooth-colored material is the gold standard these days for dental fillings, if you've had cavities and restorations done in the past, you may still have metal amalgam fillings in your mouth. Not only are metal fillings noticeable since they are silver or grey, but they are also not the best choice for your oral health for a few reasons that your dentist in Albuquerque will share.
The Downfalls of Metal Fillings
Most dental restorations break down over time, and metal fillings are no exception. They are susceptible to temperature changes in the mouth, which cause them to expand and contract. Over time, this action causes the filling to separate from your tooth, which allows harmful bacteria in and can cause it to breakdown. In this case, it is best to remove the metal filling and replace it with a new composite filling or dental crown.
Amalgam fillings also require more tooth structure to be removed to place them, which means less stability in the long run for your tooth. Many patients also question the safety of metal amalgam in their mouths due to its mercury content.
What Makes Composite Fillings Different?
Composite resin is a durable material that is bonded directly to your tooth, which preserves more natural tooth structure and creates a seal to help avoid breakdown. It can be customized to blend flawlessly with your tooth, so your dental work is not noticeable. Since composite is not susceptible to temperature changes in your mouth like amalgam is, your fillings have the potential to last for 10 to 15 years with excellent home care and regular dental checkups.
Be Proactive About Your Oral Health
If your family dentist in Albuquerque has detected tooth decay, it is important to be proactive about treating your tooth with a dental filling. If tooth decay is ignored, it will progress further into the nerve or pulp of your tooth and cause an infection. In this case, root canal therapy is required to restore your tooth back to health and eliminate your infection.
If you have more questions about the treatment that is right for your needs, or how tooth-colored fillings may benefit you, contact your dentist in Albuquerque for more information.
About the Author
Dr. Monica Boehmer provides exceptional dental care and service that exceeds her patients' expectations at every turn. She has been caring for patients in Albuquerque, NM for many years. Patients appreciate the personalized attention and care they receive when they visit Dr. Boehmer and the state-of-the-art technology that is used to make their experience more pleasant.
If you would like to contact Dr. Boehmer, she can be reached by calling 505-271-8009 or through her website.