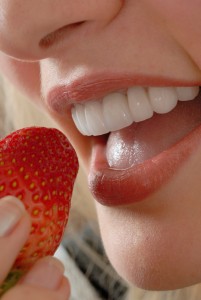 Porcelain veneers are thin shells of fine ceramic, customized to fit over teeth marred by stains, chips, gaps and other aesthetic problems. Durable and lifelike, dental veneers from Albuquerque cosmetic dentist, Monica Boehmer DDS PC, improve smiles and add durability.
A healthy smile is a prized possession, but not all healthy smiles look their best. Enter the world of modern cosmetic dentistry which delivers a variety of services to improve smile aesthetics. Among these innovative treatments are Albuquerque porcelain veneers. Expertly crafted and installed by 5-star cosmetic dentist, Monica Boehmer DDS PC, porcelain veneers change chipped and worn smiles to absolutely dazzling.
What are Albuquerque dental veneers?
According to the American Academy of Cosmetic Dentistry, more than  people 600,000 in the U.S. received dental veneers in 2006, making veneers one of the most popular cosmetic dental improvements available to older teens and adults today. Composed of fine, dental grade porcelain and color-matched to blend with surrounding teeth, porcelain veneers are super-thin, tooth-shaped shells which cover one or more teeth spoiled by:
minor chips
hairline cracks
discoloration from smoking, coffee, prescription drugs or other conditions
uneven size or contour
gaps and minor crowding
People free of extensive decay, multiple restorations and gum disease make good candidates for veneers as long as the individuals realize their aesthetic goals should be realistic. Dr. Boehmer and other expert cosmetic dentists agree that veneers must create a naturally refreshed look–not a line of identical fence pickets that look store-bought.
What's involved in the veneer procedure?
First, Dr. Boehmer has an initial consultation with her patient. She discusses the individual's concerns and goals and takes x-rays and other imaging. She gently removes a fingernail-thin slice of tooth enamel from the front side of each tooth to receive a veneer. She takes impressions and sends a treatment plan to a dental lab.
At the lab, a skilled ceramist uses Dr. Boehner's instructions to custom-create veneers with just the right shape, color and and texture to complement the person's other teeth, gums and overall facial appearance. With quality veneers, there is no "one-size-fits-all."
Next, the patient returns for bonding. Dr. Boehmer uses a special adhesive to glue the veneers to the front side of the teeth. She may adjust tooth color by changing the shade of the bonding cement and then hardens it with a special curing light. She is careful to consider fit and bite.
The bonding procedure is comfortable and quick. Chips, stains, gaps and other imperfections are gone, and a great smile results.
Caring for Albuquerque porcelain veneers is easy
Patients care for their veneers just as they do natural teeth–with daily flossing and twice daily brushing as recommended by the American Dental Association. While veneers are durable, patients should avoid eating hard foods such as peanut brittle or ice cubes or opening bottles or packaging with their teeth.
Plus, Dr. Boehmer sees her veneer patients for a follow-up to assess fit and looks and to check on any residual gum or tooth sensitivity. She advises 6-month check-ups and cleanings, too, to keep smiles bright and healthy.
Come in for a consultation
If you're tired of hiding a discolored, chipped smile, come to see Dr. Boehmer, a "Top Dentist" named by Albuquerque the Magazine every year since 2005. She will answer your questions and concerns and discuss if dental veneers could improve your smile.