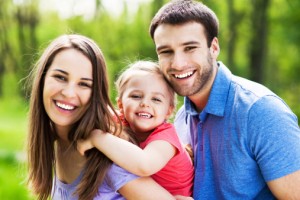 To keep your family happy, you do a lot: cook, clean, drive, carry, work, play, advise, guide and love. Lots and lots of love. In return, you receive their love and affection and smiles. Lots and lots of smiles. To keep those smiles happy and healthy, you need a dentist who will take care of all of your family's dental health needs. Dr. Monica Boehmer in Albuquerque, NM, is the Albuquerque family dentist dedicated to providing a comprehensive menu of dental services.
Dental Checkups in Albuquerque
The foundation of quality family dentistry is the dental checkup. As recommended by the American Dental Association, Dr. Boehmer would like you and each member of your family to have checkups at least twice every year. With this regularity, we can compare the condition of your oral health from one visit to the next and notice any changes that may be concerning. If we do see a problem, then your Albuquerque family dentist will want to treat sooner rather than later in order to help you avoid bigger and more expensive problems.
Of course, these checkups are also for cleaning your teeth and removing plaque build-up; evaluating the health of your gums and other soft tissue; examining for signs of cavities with DIAGNOdent, our cavity detection laser; conducting an oral cancer screening; and taking digital x-rays when necessary.
Children are Welcome at Your Albuquerque Family Dentist
For the youngest members of your family, Dr. Boehmer would like to begin seeing them around their first birthday. Of course, we understand that at this age they are not likely to be ready to sit still for an examination. However, when you begin to bring your children to the dentist at this early age, then they are more likely to feel comfortable in our office when the time comes for them to have their dental checkups, too.
Schedule an Appointment Today
If it's time for you or any member of your family to see the dentist, then call the office of Dr. Boehmer in Albuquerque, NM. Your Albuquerque family dentist also serves patients from the surrounding communities of Rio Rancho, Placitas, Santa Fe, Edgewood, Los Lunas, and Belen.