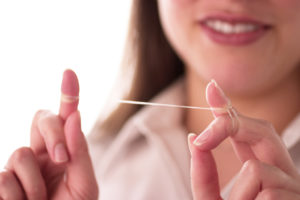 A permanent retainer is helpful for keeping your teeth straight without any effort on your part. The downside is it makes keeping your teeth clean a bit more challenging because it is actually glued to your teeth. This is especially true when you're flossing. The good news is that your Albuquerque dentist has some tips for flossing with a permanent retainer.
Flossing 101
If your permanent retainer is glued to only your canines, you can easily thread your floss under the bar with a floss threader or your fingers. Once your floss is under the bar you'll be able to easily floss the teeth underneath as you would your regular teeth. When you're done, simply pull the floss out and move on to the rest of your teeth.
What if I Lost My Retainer?
Believe it or not, your teeth have memory and will shift back to the way they were before orthodontic treatment if you don't wear your retainers. This is the reason that many dentists recommend the use of a permanent retainer.
If you didn't choose to go with a permanent retainer, you probably wear your removable retainers at night. Daily retainer wear is recommended for the rest of your life in order to prevent your teeth from shifting.
Many adults, however, misplace their retainers or stop wearing them and experience movement with their teeth and changes to the appearance of their smile. Some may even choose to take steps to align their teeth again in the future, and this is something Invisalign can help with.
What is Invisalign?
Busy adults may not be interested in wearing metal braces again, but could benefit from a straighter, more beautiful smile. Imagine being able to straighten your teeth and still enjoy all the foods you love.
Invisalign allows patients to wear clear plastic aligners that apply the same gentle pressure that braces do, but with discretion and ease because they are virtually invisible.
Because aligners are removable, patients don't have to change their diet or brushing and flossing routine. Invisalign also requires fewer visits to your dentist, making it a great option for adult patients with hectic schedules.
If you have questions about your retainer, or aligning your teeth with Invisalign, contact your dentist in Albuquerque today to learn more.
About the Author
Dr. Monica Boehmer provides high quality dentistry and a level of service to patients in Albuquerque that is beyond compare. Patients will find a wide array of services so all of their needs are met here at our practice. They also receive personalized attention and treatment tailored by Dr. Boehmer to each patient's specific needs.
If you would like to contact Dr. Boehmer she can be reached through her website or by calling 505-271-8009.