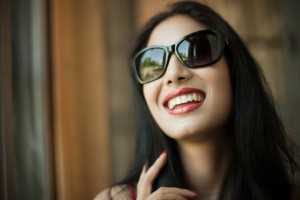 Cosmetic dentistry isn't just for celebrities anymore.  At Dr Boehmer's Albuquerque cosmetic dental practice, we treat you like a celebrity and give you the smile to match. Whatever your dental care needs, Dr. Boehmer and her team are ready to help you achieve your smile goals. Our friendly, skilled staff offer a wide variety of cosmetic, restorative, and general dentistry options to create and maintain a picture-perfect smile for life. Contact our convenient Albuquerque, NM dental practice to find out more or schedule an appointment today.

What is Cosmetic Dentistry, Albuquerque?
At Dr. Boehmer's dental practice, cosmetic dentistry is about more than just a smile that looks great. We believe in functional, esthetic dentistry. That means we start by ensuring you have a healthy smile, and then we offer correction options to make your healthy smile look as good as it feels. We also prefer using tooth-colored materials for our restorative dentistry. This allows us to restore not just the function of your bite, but also its natural beauty. Porcelain and ceramic fillings, crowns, inlays and onlays also allow Dr. Boehmer to retain more of your natural enamel than amalgam restorations. No matter what your dental care needs, we promise to provide specialized dentistry and personalized care for every patient. There's no such thing as one size fits all when it comes to dentistry. We want you to feel confident with your treatment and care. That's why we incorporate your ideas, concerns and questions throughout the process so you get the results you want and need.
Cosmetic Dental Services in Albuquerque, NM
We work to ensure that any dental care you receive at the office of Dr. Boehmer looks as good as it feels. We also offer a wide variety of traditional cosmetic options including:
Teeth whitening – We offer in-office and at-home whitening options from Zoom! Our in-office treatment can whiten your teeth by 10 shades in about an hour and a half. Whereas our take-home treatment allows you to use custom made whitening trays to gradually lighten your teeth over the course of several weeks.
Porcelain Veneers – Veneers are thin sheaths of porcelain that can be used to cover any number of smile irregularities, including discoloration, contour, shape, and alignment.
Invisalign – A great smile correction option, using clear aligners, for adults or teens who want to straighten their bite misalignments without the embarrassment or hassle of traditional braces.
Trusted Dentist for an Albuquerque Smile Makeover
It may take more than one cosmetic or restorative dental procedure to achieve the look and feel you desire. We will work with you to develop a personalized smile makeover plan. A smile makeover is any combination of two or more cosmetic or restorative dental services to improve the esthetics and function of your smile. You can even bring in photos of some of the celebrity smiles you envy, and Dr. Boehmer will review and explain your options, and provide you with a custom care plan that fits your needs, budget and time frame.
Know Your Smile Options
Whatever your cosmetic dentistry needs, you should know your options. Schedule a cosmetic dentistry consultation today to find out more about our options, and start planning your picture-perfect smile today. Our convenient Albuquerque, NM practice invites patients from surrounding areas Rio Rancho, Placitas, Santa Fe, Edgewood, Los Lunas, and Belen to call to schedule an appointment today.