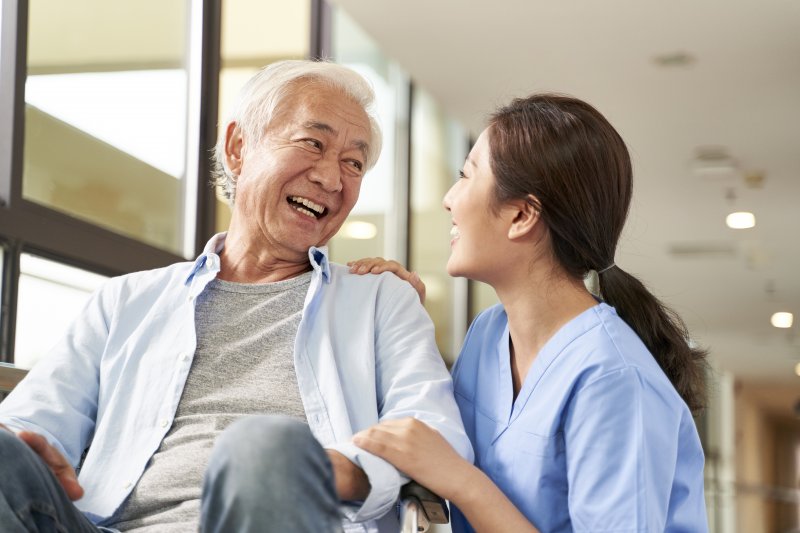 According to the Centers for Disease Control and Prevention (CDC), about 1 in 6 adults 65 years of age or older (17%) have lost all their teeth. Roughly 26% of those in the same age group have 8 or fewer teeth. The American College of Prosthodontists estimates that individuals who are missing most of their teeth (edentulous) will increase in 15 years to more than 200 million people. With these numbers, you can easily see why regular dental care is essential for older adults, especially those in assisted living facilities. Here are 3 reasons why caretakers should make sure their elderly loved one, friend, or patient should see a dentist for seniors on a regular basis.
Early Detection is Key
Dental checkups and cleanings every six months are important no matter a person's age. In fact, the older an individual is, the more crucial these visits become. Why? Because various oral health problems become more likely and prominent over time (i.e., gum recession, worn tooth enamel, periodontal disease). For seniors who are at an age when additional help is required, bringing them in to receive regular dental care minimizes the risk of serious oral health problems that require complex, costly, and extensive treatment. Early detection of gum disease, oral cancer, and tooth decay can save these individuals time and money as well as unnecessary pain and potentially life-threatening situations.
At-Home Oral Hygiene is Beneficial
Depending on the needs of the person you are caring for, they may or may not be able to adequately take care of their teeth and gums each day. If necessary, you may need to help with brushing, flossing, and rinsing to minimize their chances of developing tooth decay, cavities, and gum disease. Oftentimes, a patient who experiences cognitive decline can forget to practice good oral habits, which is why it's imperative that you make sure they brush their teeth twice a day for two minutes using fluoride toothpaste, floss their teeth at least once a day to remove bacteria that can lead to gum disease, and rinse with an ADA-approved mouthwash. If they wear dentures, you'll also want to make sure they are soaking them each night to allow the gums and bone time to breathe while also keeping their prosthetic from drying out.
Address Tooth Loss Promptly
If the person you are caring for suffers from tooth loss, it's better to schedule an appointment for them to see a dentist sooner rather than later. The longer the jawbone is without proper stimulation, the greater the risk of it shrinking and deteriorating over time. This leads to changes in a person's facial shape and more tooth loss. Discussing appropriate tooth replacement options in a timely manner is one of the best ways to ensure the health and future of their smile. These can include dental bridges, dentures, or even dental implants depending on their individual needs and capabilities.
Dental decay, gum disease, and oral cancer know no age. As a caretaker, make sure you find a dentist who offers senior oral health services to help keep your loved one's smile and whole-body health in optimal shape.
About the Author
Dr. Monica Boehmer is a trusted dentist in Albuquerque who treats patients of all ages. But when seniors come to her for help, she is ready to provide the most effective services designed to repair, restore, and help them maintain their smiles. Because older adults are more prone to experiencing gum disease and even tooth loss, she and her team are committed to offering compassionate dental care that helps seniors keep their healthy, beautiful smiles for the rest of their lives. Contact us at (505) 271-8009 to find out how we can help your loved one.