Albuquerque Porcelain Veneers
Achieve a Stunning Smile Transformation
Many people dream of a whiter and more attractive smile, but they have chipped, stained, discolored, crooked, or unevenly spaced front teeth. If this describes your situation, we would be happy to help you. With porcelain veneers, Dr. Boehmer can erase common flaws like stains, chips, and gaps so you can finally enjoy a sensational smile. Made from durable porcelain, veneers look sensational and can withstand the stresses of daily life.
Why Choose Us for Porcelain Veneers?
100% Customization – No "One Size Fits All" Solutions
Highly Experienced & Artistic Dentist
Dedicated Smile Makeover Plans For Exceptional Improvements
Albuquerque Cosmetic Dentistry Provides Veneers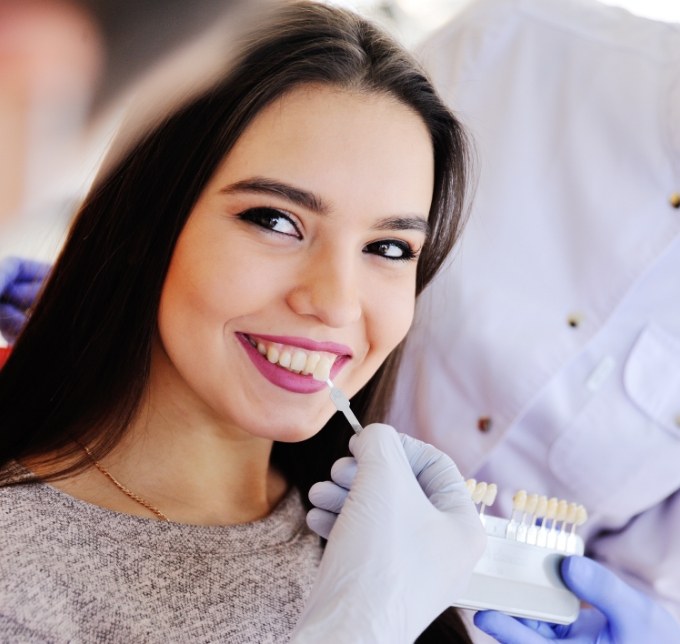 To guarantee the best results, Dr. Boehmer will show you examples of veneer styles to see what you like. She will then evaluate your teeth and features to select the porcelain veneers that will enhance your overall appearance and complement your personality. The actual cosmetic dental treatment usually takes only two appointments, as well as one or more pre-operative visits to work out the details of your situation. There is often a follow-up visit or two as well for final adjustments and polishing. With proper care, your new smile can last for years to come.
If you are ready to experience dentistry tailored to your needs, call our Albuquerque dental office and schedule an appointment with Dr. Boehmer. Our relaxing, Northeast Heights Albuquerque office is easy to access. Stop in and see how our personalized dental services can transform your smile.
Understanding the Cost of Veneers
As you consider your options for improving your smile, it is natural to wonder how much you can expect to pay for treatment. The cost of veneers in Albuquerque does require an investment on your part, which is why it's important to consider all your options before committing to this service. If you want your smile to mimic that of your favorite Hollywood star, veneers will likely be the best solution; however, if there are only small imperfections you need to address, it's possible that another cosmetic service may be right for you.
Cost vs. Cosmetic Dentistry: What's Right for Me?
Your cosmetic dentist in Albuquerque is pleased to offer an array of cosmetic dental treatments, each with a different price point. Before making your final decision as to how you want to improve the aesthetics of your smile, review the following services and what they can offer:
Veneers: If you're looking to change the size, shape, and color of your teeth, there's no other solution like veneers. Although more expensive, they truly transform the appearance of your smile and can last 10 years or longer with proper care.
Cosmetic Bonding: A more affordable and less invasive option is cosmetic bonding. Capable of hiding many of the same imperfections as veneers, it's important to note that this type of service is not permanent and will likely require replacement after several years.
Invisalign: Invisalign is effective at straightening crooked teeth and realigning bites, but it will not change the size, shape, or color of your teeth. Invisalign is also much more expensive than other cosmetic solutions.
Zoom! Teeth Whitening: If stains and discoloration are keeping you from looking your best, teeth whitening is a great solution. But remember, it only changes the shade of your teeth, but it is highly affordable.
How to Make Veneers Affordable
When it comes to paying for your veneers in Albuquerque, you may wonder if dental insurance will help cover the cost. Unfortunately, most companies will not provide coverage because they're considered a cosmetic treatment. However, your out-of-pocket expenses do not have to keep you from pursuing the smile of your dreams. Instead, Dr. Boehmer is pleased to offer two ways to help make your treatment more affordable:
In-Office Dental Plan: There is no cost to participate or monthly premiums. Instead, you will receive free health savings accounts and 10% off all dental fees. You will also receive discounts at participating specialists.
CareCredit or Lending USA: These flexible financing options are great if you need assistance paying for your veneer treatment. You can enroll in a low or zero interest payment plan that allows you to break up the cost into manageable monthly installments.
Veneers FAQs
Do you still have questions about veneers in Albuquerque? If so, you're not alone. Many patients who want to transform their smiles often feel confident at first but then discover there is much to learn about cosmetic dentistry. Dr. Boehmer and her team want you 100% confident in your decision to choose veneers, which is why we invite you to review the questions and answers below. Previous patients have come to us with many inquiries, so we believe there might be a good chance you have the same concerns and questions. If after reviewing the following information you still need clarification, contact us to schedule an appointment today.
What happens to teeth underneath veneers?
Veneers only cover the front surface of your teeth. As a result, the backside and side of your pearly whites remain uncovered and vulnerable to tooth decay. This is why it is important that you continue to practice good oral hygiene habits at home while wearing veneers. Continuing to see your cosmetic dentist in Albuquerque is also essential. While the veneers will not damage or harm your teeth in any way, you must stay on top of your brushing, flossing, and rinsing to avoid any potential problems with your new appearance.
Can I drink coffee with veneers?
The materials used to create veneers is high quality, but it is not porous like traditional tooth enamel. It is unlikely your veneers will stain if you have a drink of coffee in the morning, but over time, you will notice a change in the shade of your veneers if you're not careful. Too many dark-colored beverages, smoking, and other harmful habits can impact the color of your veneers, causing them to appear dull and possibly even more noticeable. If you must have your morning cup of joe, drink it with a straw and/or rinse out your mouth afterward to avoid any potential staining.
Can you whiten veneers?
Unfortunately, customized restorations cannot be whitened. Your natural tooth enamel is the only material that allows stain-blasting agents to penetrate and brighten the shade. If you want to ensure your smile looks balanced and even with regard to its color, you'll need to talk to Dr. Boehmer about either whitening your teeth before receiving veneers or having your customized restorations replaced with new ones.
Who is not an eligible candidate for veneers?
As a form of cosmetic dentistry, patients must be in good oral and overall health. Although most people will qualify for treatment, there are certain cases that should avoid this unique service, such as:
Individuals with gum disease can experience gum recession that will show the separation of the veneer and natural tooth.
Tooth decay and cavities can negatively impact the beauty and functionality of your veneers, which is why we'll need to treat your decay before you receive veneers.
If a person suffers from bruxism (teeth grinding and clenching), you'll either need to commit to wearing a customized nightguard or choose an alternative cosmetic solution, as grinding teeth can cause your veneers to break, chip, or become fractured.