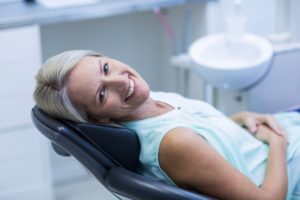 You have to take your daughter to the dentist today, and your son has an appointment at the dentist in two days, oh, and your dental appointment is the day after that. Seems like you spend a lot of time traveling to and from the dental office. There must be a better way, you think, and the good news is that there is! Dr. Monica Boehmer, your family dentist in Albuquerque, can take care of the needs of the entire family so each person can be seen at the same office, perhaps even at the same time, or at least in the same timeframe. Here are some of the comprehensive services you can expect to find when you choose Dr. Boehmer for your family's dental care.
Pediatric Dentistry
Dr. Boehmer strives to build positive relationships with children by making every dental visit positive and upbeat. She follows the ADA recommendation that children should be seen for their first appointment around the age of one year old, and she believes that these early encounters with the dentist will help your child to acclimate, feel comfortable, and even excited about their dental visits.
Convenient and Comprehensive Services for Adults
Whether you need a tooth repaired, or you would like to enhance your smile, Dr. Boehmer offers a wide array of dental services including:
In-office all porcelain restorations
Porcelain veneers
Dental implants
Invisalign
Root canals and emergency services
Teeth whitening
Your dentist in Albuquerque focuses on state-of-the-art technology like CEREC or E4D that allow her to offer restorations like crowns, veneers, inlays, and onlays in only a matter of hours instead of weeks. This type of technology can reduce the amount of time you will be in a temporary.
Options for Anxious Patients
Dr. Boehmer understands that visiting the dentist is not comfortable for every patient. For patients who experience fear or anxiety about dentistry, we offer oral conscious sedation. This is a type of sedation that is delivered through a pill taken prior to dental treatment that allows patients to feel relaxed and at ease during one or multiple dental procedures.
Dr. Boehmer is happy to discuss your options for sedation with you at your next appointment.
Are you ready to stop running all over town for your family's dental care? Give our office a call today to schedule your next appointments. We look forward to meeting you!
About Dr. Monica Boehmer
Dr. Monica Boehmer has been caring for patients in Albuquerque, NM for many years. As a life-long learner, Dr. Boehmer has logged over 1000 hours of advanced training in many different fields of dentistry, which allows her to offer the comprehensive services that will meet your family's needs.
If you would like to contact Dr. Boehmer she can be reached by calling 505-271-8009 or online through her website.