August 12, 2018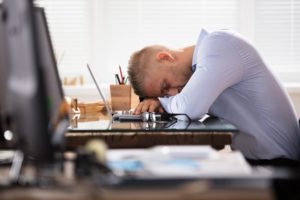 We've covered the causes of drooling as well as the many ways you can prevent drooling in the future, but what if you never attempt to make changes in the first place? What complications could appear should you allow yourself to continue drooling throughout the night? As it turns out, waking up to a wet pillow is hardly the least of your concerns.
The next time you shake off drool after you awake, consider these complications that may appear, according to a dentist in Albuquerque.
Treat Your Drooling to Avoid Embarrassment
If you've been tired at school or work and accidentally fallen asleep, it can be embarrassing enough to deal with. Not only will your co-workers, teachers and/or boss be more likely to think you're lazy, but they'll think of you as more childish because you drooled on your desk.
Furthermore, if you're just getting to know someone romantically and you begin sharing a bed together, do you want them to discover that you drool all over the bed and pillow in your sleep?
Handling both of these situations as soon as possible can help you avoid embarrassing yourself and damaging your self-esteem or confidence later (and you'll have a cleaner pillow in the long-term.)
Of course, damage to your ego isn't the only thing at stake by putting off treatment for your chronic drooling.
The Possible Complications Tied to Drooling
As mentioned in previous posts, drooling can be caused by a number of different conditions. These can range from simple conditions like allergies to more complex ones like cerebral palsy or Parkinson's disease. Whatever the cause is, it's worth mentioning that not treating your drooling could leave to complications later.
For example, if the drooling is severe, it can lead to the skin chapping. This will make it irritated and cause it to break down. If you care about keeping your skin soft and not cracking, treating your chronic drooling can make a difference.
Furthermore, chronic drooling is a sign that you're unable to swallow, leading to a pool of saliva to collect in the mouth and throat. If at any point you inhale this saliva, it can easily lead to a lung infection known as aspiration pneumonia.
The Main Takeaways from Drooling
In conclusion, drooling is not a complex condition. It doesn't require much effort to treat and won't harm you for the most part, even if you don't treat it. However, the fact that any complication is possible makes it worth it to address before it becomes a problem. Additionally, chronic drooling could be a symptom of an underlying condition. Therefore, if a person believes they have a condition related to drooling, they should seek treatment as soon as possible. Thankfully, managing this condition is easy and catching it is straightforward.
Need advice on how to treat your chronic drooling? Not sure where to start? Schedule an appointment with a family dentist in Albuquerque today to learn more!
About the Author
Dr. Monica Boehmer earned her dental degree from the Baylor College of Dentistry. She always takes a holistic approach when it comes to dentistry, meaning she takes the body and mind into account. She does not forget how other conditions can affect how she prescribes treatment. To learn more about her practice, you can contact her through her website.
Comments Off

on Dentist in Albuquerque Discusses Main Takeaways on Chronic Drooling
No Comments
No comments yet.
RSS feed for comments on this post.
Sorry, the comment form is closed at this time.