June 22, 2018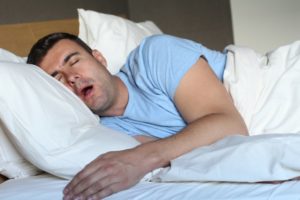 It's not fun to wake up every morning on a wet pillow! Drooling in your sleep is a topic that most of us don't want to discuss; however, it is common for almost everyone to drool during their sleep at some point. Your dentist in Albuquerque gives you some ideas to consider if you want to prevent drooling in your sleep.
Talk to Your Physician About Allergies or Sinus Issues
If you have a stuffy nose due to allergies or other sinus problems, this could cause you to breathe through your mouth at night while you sleep. Mouth breathing while you sleep increases the likelihood that you will drool.
Your physician may be able to prescribe allergy or sinus medication that can help you to breathe freely at night.
Check Your Sleeping Position
Do you typically sleep on your stomach or your side? You may be more likely to drool during sleep.
Sleeping on your back can eliminate saliva leaving your mouth while you sleep. There are certain types of pillows such as a wedge that can help you keep your head in one position throughout the night.
Botox Injections
Botox has been used to help people with neurological conditions treat drooling. When Botox is injected into the salivary glands it paralyzes the muscles, which keeps the gland from functioning and eliminates drooling.
Speech Therapy
Speech therapy is often used to increase tongue strength and mobility, while improving jaw stability. This can also help you to close your lips fully. All of these benefits can also help improve swallowing, which can minimize drooling.
Utilize an Oral Appliance
Your family dentist in Albuquerque may be able to help you eliminate drooling during sleep with an oral appliance worn at night much like a mouth guard. Oral appliances can be designed to reposition the jaw, which can help you to keep your mouth closed during sleep and prevents drooling.
If you have questions or concerns about your drooling habit, contact your dentist in Albuquerque to learn more about how we may be able to help your condition.
About the Author
Dr. Monica Boehmer has been serving patients in Albuquerque, NM for many years. She is known for providing comprehensive dentistry with exceptional service and care that you will not find at most dental practices. She takes a whole body approach and educates patients about how their oral health plays a key role in their overall health and well-being.
If you would like to contact Dr. Boehmer, she can be reached by calling 505-271-8009 or through her website.
Comments Off

on Your Dentist in Albuquerque Explains How to Avoid Drooling in Your Sleep
No Comments
No comments yet.
RSS feed for comments on this post.
Sorry, the comment form is closed at this time.